These are the thoughts that go through my head...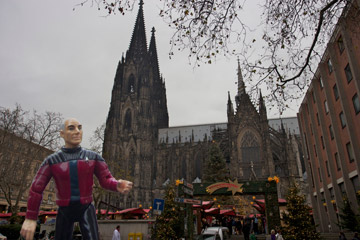 11/29/13 - Today we headed out to Cologne to visit the famous cathedral, Roman museum and of course the Christmas markets. The cathedral was towering and very church like and the Roman Museum has a few nice tile mosiacs but after a short visit the smell of apple struddle in the air could no longer be ignored. We spent the rest of the day explorer the 7 different Christmas markets scattered through out town.
---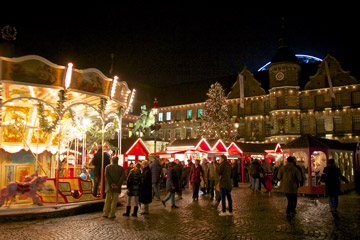 11/28/13 - Jean Luc has become quite a fan of Christmas Markets...and the food and drink that goes with the markets. This year we decided to go to Dusseldorf Germany because that where American Airlines would fly us for a reasonable amount. OUr flight got into Germany over 1 hour early which would have been great if it wasn't 6am. It seems that not even in Germany are bars or anything else open at 6am.
Turns out Dusseldorf is rather an industrial city with limited museums or sights to really see. No matter, the Christmas Markets started to open up around noon and Jean Luc and I forgot our woes with the help of crepes and Gluhwein.
---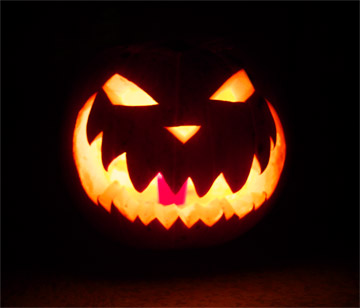 10/31/13 - Happy Halloween!
So once again my scary pumpkin worked just a little too well and I only got 3 small trick or treaters. I could have given them a bag or candy each...I didn't but I could have. Now I have movie candy for the rest of the year.
---
9/29/13 - The day began with some seriously dark clouds seen in the distance so we grabbed the umbrella and hoped to get some sightseeing in before the rain started. First stop was the Don Quixote statue and Templo de Debod, an Egyptian temple given to Spain as a thank you for helping the save other temples in Egypt. Shortly after visiting the temple it started to rain so we decided to head to the Prada Museum to see Goya's painting of inbred Spanish Royalty. This decision turned out to be good because as soon as we entered the museum it really started pouring.
Once again there was no photography allowed in the museum...sigh. You'll just have to take my word for it that some of the Spanish royals in the portraits were indeed in possession of homely features. In addition to the royal painting by Goya, also viewable were his Black paintings. Interesting and slightly less disturbing than some of the royal portraits. After a hour the rain was letting up and we were arted out and hungry once again.
Originally we had a mind to eat lunch at Botin the oldest restaurant in the world and famed for their suckling pigs. After a perusing the menu and the prices we opted to find a more modestly priced establishment. For 30 euros we want a whole suckling pig not just a slice. We followed our noses to an eclectic looking establishment whose menu was handwritten on an artist palette. Since this was an establishment visited mostly by local the menu was naturally all in Spanish. I narrowed my choice down to something in a red sauce stuffed with shrimp. The "something" was the trouble spot. I determined that merluza must be some sort of fish but that was where my 3 years of high school Spanish and the lyrics to La Bamba failed me. Jean Luc was having somehow secured a bottle of wine and a straw already was of no help. The waitress came by and I bravely pointed at the menu item while secretly praying that when it was served it didn't have eyes that would look at me with a cold stare while I ate it. 20 minutes later my dish was served and I won the foreign menu lottery. Merluza turned out to be a white fish stuffed with some sort of shrimp mixture and red sauce. Kind of like a seafood turducken - it was very tasty.
After lunch time for some more sightseeing. We wandered around the indoor market Mercado de San Miguel and the Plaza Mayor. Madrid is interesting but honestly the least remarkable European capital city we've yet visited. There are no grand cathedrals or government building and the old square and not that grand. That's not to say it wasn't an enjoyable weekend but we feel that one weekend was all that was needed in Madrid.
---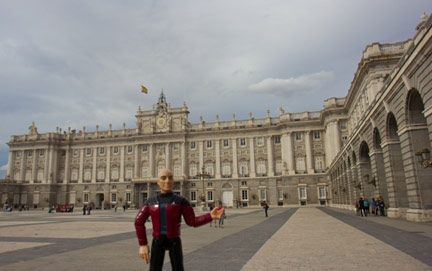 9/28/13 - Hmm, what to do with a free weekend....I know let's go to Madrid!
I'd like to think it takes a special kind of crazy to fly 13 hours each way just to spend the weekend in Madrid - okay a day and a half if we're being precise. Good thing Jean Luc and I just happen to be that kind of crazy so off we went. We touched down in Madrid in the morning hours on Saturday and made our way to the Madrid Hilton to check into our room. Our room....wow, I don't know how we got upgraded but our hotel room was bigger than my apartment and really should have come with an instruction sheet to navigate all the buttons in the bathroom alone. We actually had to ask the front desk how to turn on the lights in the toilet section of the bathroom. Yes, the bathroom had sections. After 15 minutes trying to locate the right switch Jean Luc gave up convinced people in Spain just prefer peeing in the dark.
Okay, enough of the hotel and bodily functions... We found our way to the closest metro stop and headed downtown to take a walking tour of Madrid. We arrived a bit early for the tour so it we stopped by the Museum of Jamon to grab a cheap Iberian Ham sandwich. Madrid is famous for this type of ham. It had good flavor but was a bit chewy and dry for our liking.
The walking tour lasted a bit over 2 hours and was a nice introduction to the city, it's history and the increasing inbred Spanish royal family. The tour ended by the royal palace so it seemed the perfect time to check it out. Spanish nobility being inbreed and apparently hideous looking prohibit photography inside the palace which is a shame as the palace is very nice and quite photogenic. The coolest parts of the palace were the armory where there were dozens of suits of armor for adults, children and horses on display and the royal apothecary.
After our visit of the palace our stomachs were rumbling and it was time to try another specialty of Madrid - Chocolate with Churros. For 3 euros you get 6 big churros and a coffee cup full of chocolate in which to dip them. When people were done with the churros they would drink the remainder of the chocolate in the cup. I know this will be hard to believe but after 3 churros and chocolate we were churros and chocolated out. Of course we pushed on and finished all 6 then went to McDonald to get a hamburger.
Bellies full we took a leisurely walk back to the metro and the hotel to prepare for the second and final day in Madrid.
---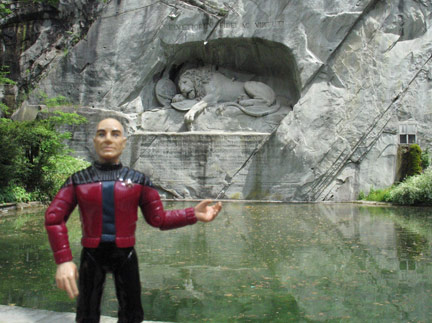 5/16/13 - Ah Switzerland, land of sneaky cows and chocolate. The cows must be ninja sneaky because all over Switzerland they make them wear bells. Surely the result of legislation passed after dozens of Swiss citizens were maimed in vicious attacks by ninja cows.
That's right it's May so Jean Luc and I took a few days off to visit Switzerland. We flew into Zurich and were welcomed into the airport by the moo train. Yes, you read that right. To get from your plane to arrivals everyone is herded onto what I like to call moo-transit. It looks just like any other airport tram but as soon as the doors close you begin to hear the sneaky ninja cows start mooing and the ringing of their bells. Luckily, moo-transit only takes a few minutes and most everyone disembarks safely.
Jean Luc and I stayed in what turned out to be a cow themed hotel in Zurich located close to the train station. Having acquired a Rail Pass giving us unlimited us of most trains we headed off in search of adventure. The first destination was Lucern, a picturesque city with a lake and covered bridge. We head off on what was labeled the Old City Wall walk on the map. Of course what the map didn't happen to mention was the 600 stairs that you had to climb to finish the walk. We promptly decided an apple strudel was needed to replenish our strength after all those stairs
The next morning we were off to Lauterbrunnen, land of waterfalls and more farm animals with bells. Apparently the good folks and farm animals in Lauterbrunnen must not get a lot of visitors in mid-May because they were all looking at me like I was lost. Jean Luc and I were the only ones on the 2 mile trail to see the Trummelbach Falls. Once we did reach the falls we finally saw a handful of other tourists that must have been intimidated by the farm animals and taken the bus. Maybe they were not aware of the electric fence along the trail that protected people from the cows and sheep. The falls were very noisy and wet as can be expected but worth the walk.
From Lauterbrunnen we hopped back on the train and headed to the capital city of Bern. We saw all the main sights and had our fair share of chocolates before calling it a day and heading back to Zurich
Our last day in Switzerland and the first day it looks like the skies will be clear so we headed off to Zermatt in hopes of seeing the Matterhorn. Luck was on our side and the sky remained clear for just long enough for us to see the Matterhorn before it was completely covered by clouds. We looked everywhere but could not find the Yeti or rollar coaster anywhere. Most disappointing....
At the airport on the way home they wouldn't let us leave unless we had bought at least 5lbs of chocolate and a watch.
---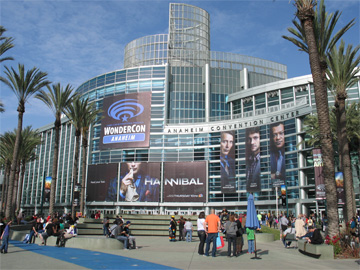 3/30/13 - My first time at Wondercon in Anaheim. It was awful hard not going to Disneyland as it was right across the street but I did promise myself a day of toys and comic fun.
I was able to walk right in and pick up my badge then right in to the exhibition floor to see what fun items were to be found. I ended up picking up a deleted scenes dessert storm Luke for a very fair price before heading upstairs to line up for some panels I wanted to see. As a veteran of Comic-Con I wasn't sure what to expect but was pleased that showing up a mere 20 minutes before the panels I wanted was more than sufficient to get inside. The Jim Lee and Falling Skies panels were interesting and I was rewarded with some Falling Skies swag - a red bandanna with a resistance map on it.
---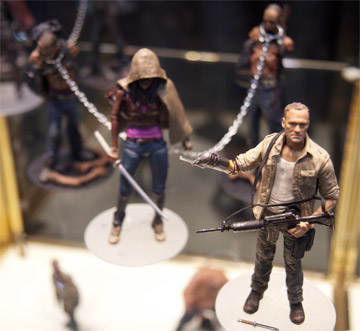 2/11/13 - It's Toy Fair time!!!!!!
For years I've wanted to go to Toy Fair. I always waiting anxiously to see the new toy reports online every year but not this year, this year I saw it all in person. Well okay not all. When I arrived I discovered that to see the Hasbro and Mattel displays you needed to have an appointment. At present I still have no idea where or how to make an appointment but I have a whole year before the next show to figure it out. I did get to see the new and extremely awesome figures for The Walking Dead. The sculpts are very detailed and actually look like the actors.
After spending most of the day walking around the convention center and being overwhelmed by toys I decided to walk over to Broadway and see a show. I picked up tickets for Cat on a Hot Tin Roof about 15 minutes before the start of the show. I took my seat and shoved my Toy Fair goodies under it. Shortly before curtains up I notice that Liam Neeson is sitting about 8 rows in front of me. How cool is that? I got to see the Black Widow and Qui-Gon Jinn in the same room.
---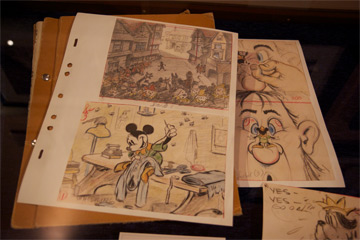 1/26/13 - There's precious few things that can lure me into going to Simi Valley but the Treasures of the Walt Disney Archives exhibit at the Reagan Library just happens to be one of those things. I was richly rewarded and got to see several early sketches and tests for Fantasia and Sleeping Beauty. They also did a good job of documenting Walt's start in Kansas and the opening of Disneyland. There also were several movie props including the car from Flubber, Mary Poppins dress and the original tron costumes.
---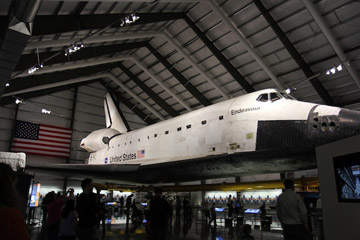 1/19/13 - A nice day to take a trip to see the space shuttle Endeavor at its new home in the California Science Center. It was really cool seeing the shuttle but would have liked to be able to go inside. At the very least they should put a platform in the building so you can view the shuttle from the top.
In a separate room before you got the the building with the shuttle they had the space shuttle toilet and kitchen electric range on display. Who needs to see cool space suits or button filled consoles when you can see a space toilet....
---
read more ramblings...