These are the thoughts that go through my head...
6/27/16 - Our last day in New Orleans. The morning looked grey and nasty, rain had been there are looked to be coming back. We ignored it and went to Jackson Square to meet up for a walking tour of the French Quarter.
The rain held off and we learned some interesting things about the history of New Orleans. Turns out that after the second time New Orleans buried to the ground the Spanish decided to mandate that houses be built close to the road and in brick instead of the highly flammable cypress which was the go to building material used previously.
After the tour it was time for a roast beef poboy and a sit down to listen to a jazz band for a while before getting readying to go back to the airport. Another good trip.
---
6/26/16 - It's swamp tour day and we are ready to see some alligator's! A 35 minute bus ride and we arrived at Honey Island. We hoped on a boat that looked just like the ones from the jungle cruise at Disney. In less than 5 minutes we had our first gator sighting - a 15 footer. The guide lured the gator closer to the boat with marshmallows then got him to jump up out of the water to eat some tasty hot dogs on a stick. Heading off to other areas in the bayou we saw about 15 alligators, 2 boars and several birds and turtles sunning themselves. We also learned that all creatures, except me, really like marshmallows.
After an enjoyable 2 hours zooming around on the jungle cruise boat it was time to board the bus back in to New Orleans. We had the bus driver drop us of in the French Quarter so we could get some lunch and check another item off our list. We choose a restaurant called ACME as we saw huge lines there for dinner the night before. We started off eating some Gumbo while eyeing the oysters are debating whether to try them. They are exactly cheap so after some questioning of the oyster shocker and a gifted raw oyster from the couple sitting beside us we took a chance and got some charbroiled oysters. The oysters were cooked in a butter and garlic sauce so I don't know how they could have been bad. The charbroiled ones actually had a little bit of grit in them but not bad. Oddly enough the raw one had no grit and was not fishy at all.
After a hearty lunch we headed off to see Lafayette Cemetery. We had wanted to take the street car to it but we kept walking along the tracks but a car never came. 5 cars passed going the other way but none in the direction we wanted. 2 miles in the heat of the day was a bit more than we had planned on so the cemetery might be the appropriate place to be headed. We were ready to crawl in one of the crypts to rest and cool down by the time we got there.
On the way back out of the cemetery we ran into a bunch of people waiting to start a walking tour of the Garden District and Cemetery. Because you only live once and we're a might bit crazy we decided to crash the tour. Always nice to have a tour to put things you see in context. The tour was about 1.5 hours are was a good introduction to the area.
We learned the crypts are basically slow cookers for the people placed in them. When a new member of the family that owns the crypts dies the old person is removed from their coffin and the body is just shoved to the back so they can fit in the new person with their coffin. yeah, seems very odd to us too.
After the cemetery we learned the history of the Garden District and saw several houses of celebs.
---
6/25/16 - Whew, flight from LAX was really late and we just made our connecting flight to New Orleans. I guess American Airlines is trying to keep us in shape making us run to though the airport.
So New Orlean seems to be a whee bit warmer than Southern California. Our hotel was a good 15 minute walk into the touristy areas but we were not deterred we grabbed the map and headed into the city. First on the list was find some breakfast so we headed to Cafe Du Monde so sample the beignets.
Even at this early hour the cafe had a pretty decent line going on. Looked like on line for take out and another to maybe sit inside? We're not sure as we just walked in and asked someone with empty chairs at their table if we could share. Jean Luc doesn't believe in waiting in line when there are options. So we sat down with a couple at a table and had beignets in front of us in about 15 minutes. Honestly, the beignets were just okay. Let's be real - they are nothing but a fried donut covered in enough powered suger to make you look like a coke addict for the rest of the day. With one item on the want list checked off we headed off to meander to the French quarter.
Up on Bourbon street we found another item on our want list. A huge cooler of Crawfish slowly being cooked outside a restaurant. We headed inside and ordered a 1.5lb platter of crawfish with corn cob, sausage and potatoes. We were both worried about being able to eat 1.5 lb of crawfish but as it turns out there is very little on crawfish that is actually edible. The meat in the tails is all you get to eat and that is much smaller than what you get on shrimp. Oh well, lessoned learned and another item checked off.
More wondering through the French Quater with a break for a frozen margarita. The French Quarter is very interesting to walk around. Different live bands and music can be heard coming from all the different clubs. People walking around with hug novelty plastic glasses fileled with different frozen drinks. Kinda crazy.
---
6/24/16 - What are Jean Luc and I doing sitting in the Admiral's Club at the whee hours in the morning you ask. Well we are off again on a red eye, cause we're cheap and like to maximum our limited time at a destination. Tonight we are headed to New Orleans! via Dallas Fort Worth which mean if we are lucky we wil get about an hour of sleep on the plane. Bah, who needs sleep. I'm sure the man eating gators and beignets in New Orleans will keep us awake for the day. That's assuming we succeed in our goal of using public transportation to the hotel. It's 3 bus changes and 1.5-2 hours ordeal. Who needs expensive shuttles or taxis anyway...
At least the night is starting off fairly well. We found 2 drink coupons in the lounge (woohoo!) but they were out of the bottled Diet Coke (boo!) we wanted so we had to settle for a Barq's Rootbeer and a house white wine. They are still serving soup this late which is nice but instead of the vegetable beef if seemed to be chili. Chili really? American Airlines, does chili seem the best choice to serve people who will be on a plane for the next several hours? Oh well, we'll see if our seat mates give us more room.
---
5/27/16 - We had great plans for today... none of which where followed. We were up bright and early, no, really the sun was up at 4am. We had a good breakfast at the hotel and hit the road for some sightseeing. Well it seems that the rest of Helsinki was no quite up and about at 8am like we were. We got to see a lot of things without people to interfere but nothing really was open. Wandered around a few churches, a square and the harbor area. Eventually we made our way to the Rock Church and decided that we would what the 15 minutes until it opened. It must be fabulous as they were already about 50 other tourists milling around waiting to go inside.
Well we waiting and went inside with the horde. Turns out the name is not misleading. The church is indeed carved into the rock. Interesting for a look but not really worth more than 5 minutes of our time. We did fine Santa's Mini mart, which was right next to the church, very amusing.
Since things were now starting to hum we heading back to the harbor area where there was a market being set up. Lot of fresh berries, fruit and enough fur and animal products to give PETA a heart attack. You could buy reindeer everything. Hides, antlers, you could eat one for lunch. I thought it was awesome. Jen Luc really wanted a hide so he could go back to LAX with it draped over his shoulders and a horned hat.
Next we went off the map, monsters be here... We obtained addresses of toy and comics stores from the helpful people on the internet and were off to try to find one that had images of vintage Star Wars Toys on their site. We took the bus way out of the town center to a stop only we got off at. As the bus pulled away and we stared around blankly we had wished we printed off a map to the store instead of just written done an address.
After wandering cluelessly for 5 minutes we actually did find the store. They had an impressive amount of vintage Star Wars toys but no Yak Face that I really wanted. I had brought a blue snaggletooth in hopes of trading if they had one. They had a snowspeeder toothbrush holder that tempted me sorely but there was no price on it. Based on the prices on everything else it was surely out of my budget anyway.
---
5/26/16 - So 10pm in Helsinki is still really bright. Which helped us getting on the bus and successfully making it to the hotel. We were upgraded and have a great view of the harbor.
---
5/25/16 - Well, here we go again. Jean Luc found us a cheap fare to Helsinki so I said what the hell.

Our AA boarding pass had gate 159 on it so we thought there must be a mistake. There is no gate 159 in terminal 4 at LAX. Much to my surprise AA now has departing flights from the Tom Bradley terminal. We went through security at terminal 4 which turned out to be a good move. We basically walked though security and bypassed the long line at TBIT. Adding to the good fortune is the lack of an Admirals club at Tom Bradley so we are sitting in the much nicer Oneworld lounge eating real food and enjoying free run of the fountain beverages and a wide selection of wine.
Back to the bad - they changed planes on us the older 777-200. We're still in the main cabin extra seating but it's just not quite as nice.
---
11/30/15 - Ah the joys of travel...Jean Luc and I boarded our British Airways flight to Heathrow on time but we sat on the runway for over an hour apparently waiting for the wind to die down. It seems our plane was too tiny and would have been blown of course if we attempted to take off. When we finally reached Heathrow we had 30 minutes to catch our next flight in a different terminal... yeah, we didn't make it.
We headed over to the American Airlines lounge to see if we could get on the next flight. The next flight was full so they told us to go over to the British Airways desk as it was their fault we were late so they should deal with us. Guess loyalty doesn't mean much to American Airlines... British Airways put us on an Air New Zealand flight leaving in a couple hours and handed us a boarding pass with row 52 on it. Jean Luc stared blankly at the ticket for a full minute then asked if we were sitting on the tail on the plane. I don't think we've ever been that far back in a plane before. Then we inquired about a lounge in the other terminal we needed to head to and the agent printed off a 10 pound voucher and sent us on our way.
We headed over to the unknown area that is terminal 2 - the queen's terminal. For being the queen's terminal we expected better food options for our 10 pound voucher. We settled on a sandwich, crisp and drink combo from W.H. Smith for 4 pounds and spent the rest on crisps and candy bars.
---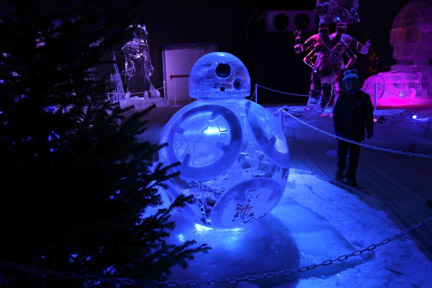 11/29/15 - Star Wars on ice! We found out about this after we go to Belgium and naturally we hoped on the train to Liege to pay money to be let into a -5 degree tent. Ice sculptures inspired from all the movies including the upcoming Force Awakens how could we miss this. BB-8 greeted us as we made our way into the exhibition. Most of the sculptures looked awesome but one Darth Vader and a Yoda will forever haunt our dreams. They were just oddly and disturbingly proportioned. The exhibition included an ice slide they we went down. We did get stuck about halfway down which I'm sure was not due to all the chocolate we've been eating.
After the ice sculpture festival we wandered around Liege in search of the 100 stand Christmas market that was advertised. After 15 minutes of walking we found the festival and were a bit disappointed, there were about 50 stands at most. We consoled ourselves with a beer and some food from a stand.
The rain started back up as we headed back to the train station to spend the rest of our last day in Brussels.
---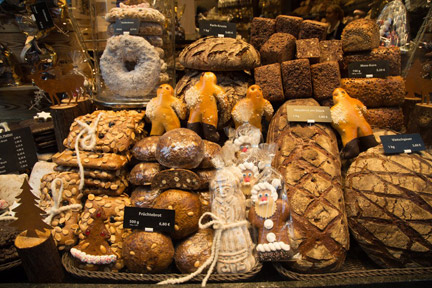 11/28/15 - Off to Aachen Germany, home of creepy dough people and Charlemange. The Christmas market is Aachen is especially good and there is enough gluh wein and eierpunsch (eggnog) to make up for the creepy dough people that seem to be everywhere. The hide amongst the other tasty treats when you are least expecting it. Jean Luc thinks we should buy one just to bite it's head off but I'm unsure it wouldn't kill us in our sleep.
---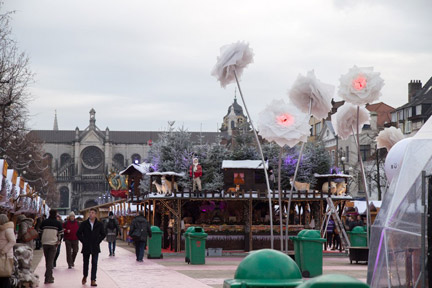 11/27/15 - We got to Heathrow really early and were forced to circle the city until 6am before we could land. Once on the ground we had the long walk and bus ride from Terminal 3 to 5. The prize at the end of the trip was time in the lounge where bacon sandwiches awaited. Because when you've had 2 hours of sleep in the last 2 days those little things are the best thing you've ever eaten. After an hour in the lounge we headed to board the final flight to Brussels.
Arrival was very easy at Brussels airport and we quickly boarded the train into town. Our hotel was conveniently located across from the central station. Upon check in we were only upgraded to a deluxe room and not an executive room - do they not know who we are?!? To overcome the disappointment we headed straight out in search of chocolate and festival cheer.
Now just before we arrived Brussels had been on level 4 terrorism alert - we of course totally ignored this and came anyway. Outside and at the train stations there were heavily armed guards keeping a watch on things, other than that it seems business as usual. There were people walking around enjoying the sights and sounds as normal. There seemed to be less tourists than normal but that made it better for the rest of us that braved the trip.
---
11/26/15 - It seems our supply of chocolate has run dry again so Jean Luc and I are off to Brussels to restock and visit the Christmas markets. Three plane changes and 13 hours of flight time for some fresh chocolate and some gluhwein makes perfect sense.
Once again our upgrade did not clear for the LAX-JFK flight we are batting zero so far this years for upgrades. We managed the best we could for the flight and purchased a $6 turkey sandwich for breakfast - it is Thanksgiving after all. Soon enough we landed at JFK snagged some free booze and food in the lounge and boarded the next flight to LHR. Not having much time to sleep on this flight we went ahead and tried the "pasta" offering for the meal. Jean Luc was not impressed with the food but the booze from the lounge and some wine with dinner helped us get a couple hours sleep before landing in Heathrow.
---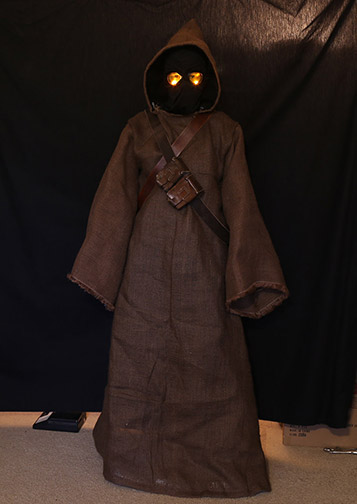 10/31/15 - So I turned out to be pretty much the only person in costume at the wedding. What's wrong with people? You get an invitation for a wedding on Halloween saying dress however makes you feel fabulous and they all wore boring normal cloths. I wore my Jawa costume all day and through the night. Screw all the boring people! I looked awesome and I'm sure I made the wedding photos look a lot more interesting.
---
10/10/15 - So my friend is getting married on Halloween. The invitation says to wear whatever makes you feel fabulous. So I've decided to try to make a Jawa costume to wear. Not sure if that will me feel fabulous or just like selling droids. Now I've never actually sewn anything before so this wil be interesting.
I went to Joann Fabrics today to buy 3.5 yards of burlap. Why burlap? Well it just seemed like what Jawa's would wear. They don't seem fashion conscious. So I carry the bring thing of burlap up to the cutting desk and the women looks at me and asks what I'm trying to make. She then starts to tell me in detail how to cut and sew the costume together. Gah! I did not come prepared to take notes. I must have looked a little shell shocked because she ended the talk by saying it's for one night - staples and duct tape will work as well. I like the way the Joann Fabrics lady thinks.
---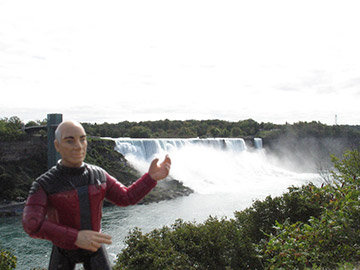 10/4/15 - After the dreadful weather in Pennsylvania we decided to ditch it and head to greener pastures in New York. We headed to Niagara Falls and the bragging rights to say we were in 2 states, 2 countries and the Seneca Nation all in one day. the day was looking up, we arrived to find the sun was out at the falls. We didn't do any of the fancy boat tours or go down to the bottom of the falls. We've seen water close up before and, thanks to Disneyland, even seen the back side of water. We did decided to walk across the Rainbow Bridge were we did not find Asgard or people's dead puppies, instead we were magically in Canada.
The view of Niagara Falls from the Canadian side was much better and worth crossing the Rainbow Bridge for. We stopped off had some lunch and bought some Maple Syrup and headed back to the Rainbow Bridge. Turns out you can cross the Rainbow Bridge for free but resurrection costs 50 cents. If you don't have 50 cents there are change machines but they only accept Canadian money to give you 2 U.S. quarters. Jean Luc is currently pasting together another letter....
---
10/3/15 - Seems that we brought rain and wind with us to Erie. We tried to do some sightseeing - Perry's landing and the lighthouse but it was pretty miserable, wet and windy out there. We gave up and went to see The Martian and had some chicken wings.
---
10/2/15 - Jean Luc and I are off to the great white north for a quick weekend away. This is our first time on an US Air flight and are not real thrilled with it so far. Terminal 6 at LAX is pretty much a construction nightmare. We quickly made our way to the Alaska Board Room since there is no Admiral's Club in this terminal. It was small but decently comfortable and had a pancake machine. One button push and 60 seconds later 2 pancakes flop on a plate for you like magic, awesome. After pancakes and Diet Coke we headed to the gate to board our plane.
Upon trying to enter the plane we discovered that our premium exit row seat assignment had been revoked and we were now in a regular row, grumble, grumble. So far US Air/American is not making a great first impression. As we walk past our old seat we see that a VIP has been seated there. Jean Luc is not happy about this at all. After we make our way to our new seat Jean Luc started ripping letters out of an American Way magazine and assembling a strongly worded letter to send to American Airlines. A little while later the VIP/Actor who got our old seat came by apologized and slipped us some cash. Very cool of him to do that. He is lot bigger than us and was more in need of the extra space in the exit row but still it's not cool of the airline to boot us from our seat. Jean Luc did grudgingly put down the glue stick and put away his complaint letter.
This is going to be along day... We landed at Philadelphia to find out that our flight to Eri has been canceled due to "airport congestion". 4.5 hours later we got on the only other flight of the day to Erie. The plane was only slightly bigger than a Honda Civic and had 9 empty seats. Jean Luc believes our first flight was canceled because not enough seats were booked and has started cutting letters out again.
---
9/6/15 - We're doing real touristy stuff today! Jean Luc and I are off to Giverny to visit Monet's gardens. After a short train ride we arrive at Vernon. We and pretty much everyone else that was on the train head over to the buses to get to Giverny.
Monet's garden was interesting. Lot of flowers as one might imagine. No clue what any of them were. The pond with the water lilies was picturesque. After walking around the gardens and chatting with some Australian tourist that found it very amusing that we were only in Paris for the weekend - hey not everyone gets 4 weeks of vacation time, we headed to view the inside of Monet's house. Monet seemed to have a thing for Japanese art of the black and white pen stroke variety. Very interesting and so unlike what he painted.
Having had enough of flower and Japanese tourists taking pictures in front of flowers we left the garden's to see what else was in the town. Turns out there's no much in Giverny other than the garden's and a few restaurants for tourists. We did walk over to the church to see Monet's tomb.
Back to Paris and feeling we might as well do something else touristy we headed towards the Eiffel Tower. On the way we were side tracked by a flea market. Lots more antiques and silver setting than we see in US flea markets. Sadly we did not find any vintage Star Wars toys.
We've been to Paris 4 times now and have never gone to the top of the Eiffel Tower and we didn't this time either. Jean luc has seen the view from a space ship and has no need to pay to go up to the top of the tower. Instead we enjoyed lunch on the lawn area beside the tower. There were lots of people out enjoying the day and a band playing music.
After yesterday's disappointing crepe today we were got a proper banana and nutella crepe at Toulleres. Apparently we are not alone in our liking of nutella banana crepes. Within minutes of getting the crepe we were harassed by a bee that desperately wanted the crepe. I'm sure the French people that saw us pirouetting to get away from the bee were shaking their head's and thinking crazy American. No sooner had we escaped the attention of the bee then a small child saw our crepe. His eyes got real big and he escaped his mother twice to try to follow us in hopes of a bite of our crepe. Time to finish this crepe poste haste!
More wandering around the Champs Ellysee and the purchase of a souvenir Eiffel tower keychain for the neighbor kid we were starting to run out of steam and called it a day. We did manage to have a proper French meal of a Croque Madam at a restaurant by the hotel. Another fun weekend trip successfully concluded and off to the airport bright and early tomorrow.
---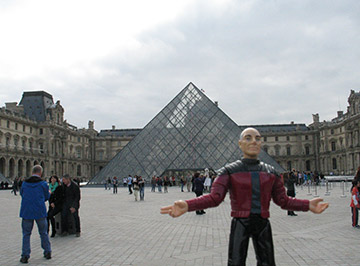 9/5/15 - We've arrive in Paris at 6:30am and take the Roissy bus into town. Miraculously we are able to check into our hotel room even though it is only 9am. After a quick shower we are refreshed and ready for the day. Other people go to Paris to see the museums and the sights but not us. Our plan is to wonder around and visit some toy and comic shops. We had heard there was a street with multiple toy and comic shops on it in the Latin Quarter so that's the direction we headed. On the way we passed the Louvre and stopped for a photo op. Then across the Sienne and over to Notre Dame. It was still too early for the shops to be open so we went inside the church and looked around a bit. Okay enough touristy stuff, bring on the toys!
Most of the stores were comic shops with mostly graphic novels. Interesting but nothing we can't get back in the US for cheaper. Then we found new Star Wars toys!!! None of the Hasbro figures but they wer stocked up with the Disney Elite Series figures. They sure looked pretty and we were sorely tempted but the Lady shiny trooper, Captain Phasma, and the talking BB-8. However with a price tag of 45 euros we decided to pass and pick them up later. If the dollar was a bit strong we would have bought them, we still have not found those 2 figures back home.
As luck with have it we found a Star Wars themed restaurant for lunch. The decor was Death Star inspired and the menu featured crepes of all sorts with Star Wars and other space genre movie names. We decided on the Dagobah Crepe consisting of Swiss cheese, mushrooms and grilled onions. Turns out if tasted a big like Dagobah... Well maybe not that bad but was not what we were expecting. From now one we will stick to crepes that contain banana and nutella only. Never-the-less it was an adventure and in all fairness the other patrons didn't seem to have any issues with the food. After a trip to the bathroom, compete with sign of a stormtrooper using the facilities and labeled Stormpooper, we headed off to wander so more.
We wondered around Tuileries and stopped off at McDonalds to have a Shiny Double Bacon burger before calling it a night.
---
9/4/15 - Jean Luc somehow didn't get the memo that this is Force Friday and he booked us tickets to Paris for the weekend. Yeah I know, life is hard when you have to give up standing in line at midnight to buy toys to go to Paris. Luckily I live on the west coast so online stores were putting the toys on their sites at midnight east coast time. I was able to get a Kylo Renn 3.75" figure and the Sphero BB-8 from Amazon, woohoo! So now it's the whee early hours in the morning and Jean Luc and I await our flight in the comfort of the Admirals Club.
Half way to Paris and a stop off at JFK. The bartender at the lounge recognized us from our previous stop offs and gave us a very generous screwdriver. Jean Luc happily sipped on that until boarding for the next flight.
---
7/28/15 - I was able to extend my Comic-Con good luck afterglow today and was able to order the Star Wars First Order Stormtrooper from Hasbro! Every year they hold some exclusives back and sell them online on their site. I knew the Stormtrooper was going to sell out fast. They sold out by Saturday morning at the show this year. This year they sold out within 7 minutes on the site so I was very lucky indeed.
---
7/12/15 - Comic-Con!
So for the first tim ever I went to all 4 days of Comic-Con. In the past, due to hotel pricing, I've never stayed In San Diego and only drove down for the on Thursday and Sunday. But this year thanks to hotel points I was able to stay there for 3 nights and enjoyed every second of my time. Best Comic-Con visit ever. Everything worked out for me.
Thursday started out a bit frustrating as I was later getting into the show than I wanted to be but I recovered and felt better after securing my first Comic-Con exclusive - Hallmark's Itty Bittys. I few hours later I met and got William Shatner's autograph on his new book - awesome! The rest of the day was spent perusing the sales floor and snagging some swag.
Friday morning's objective was to get there early enough to get the elusive Hasbro ticket to try to get a First Order Stormtropper. I finally got inside to discover Hasbro tickets were already all given out so I quickly decided on plan B which was the Lego line. IN the past Lego exclusives were always a disaster. This year they changed to a much better system and people lined up outside the convention center for a chance to win a ticket to buy the exclusive for the day. You basically wait in line and press a button on an iPad now. Awesome! happy face and you win. Bad cop face and you loose. I was lucky and won the Throne of Ultron set! Went inside the show and managed to get another Itty Bitty for a friend. Then I just happened to be in the right spot when the cast of The Walking Dead came into the exhibition floor to go to the booth for the show. Got to see them all! Then after almost being crushed by the crowd trying to get photos of The Walkin Dead cast I was shoved back towards the WB booth. I turned around and out walks Conan O'Brian.
To get some air after the crowds on the exhibition floor I went outside and decided to wait in line for the daily Lego minifig giveaway. I got in line at 11 for the 12:30 giveaway and it ended up being a good thing - by noon the line was about a mile long. My luck continued for the day and I won the new Captain America minifig! Another great day ended with getting in to see the Orphan Black panel.
Saturday was the day Lego was selling the Dagobah miniset and it was the set I really wanted most. I got there early again and my kick ass luck continued as I won the opportunity to buy the Dagobah set! I headed inside and was able to pick up some swag I was really wanting including the pin for the new Mocking Jay movie. I also got Ashley Eckstein's, the voice of Ahsoka Tano, autograph.
I made it in to see the Grimm panel I wanted the had to head back in to the exhibition floor for a meeting. While there the cast of Agent of S.H.I.E.L.D. cam out and I got some great pictures of them. The day ended with getting to see the cast of The Flash.
Sunday was the really early day for me as I knew I would need to line up early to get into the Supernatural panel. I was able to get a good sit in Hall H and stayed all morning. Got to see The Vampire Diaries, Supernatural, American Horror Story/Scream Queens and Heroes Reborn panels. I was very surprised and pleased to see Jamie Lee Curtis at the Scream Queens panel. Heroes Reborn could have potential if they've learned where they screwed up on the first go around.
After the panels I visited the exhibition floor one last time to pick up any swag I missed then left for the drive back home. My luck even continued there as the drive back only took about 3.5 hours which was much faster than I thought it would be. A great end to a great Comic-Con.
---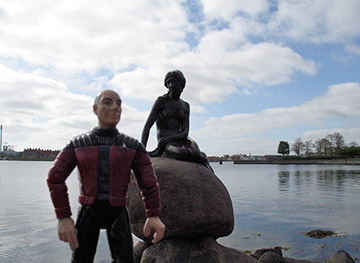 5/24/15 - Holy smokes batman! does it ever get dark in Denmark. We woke up at 5am and it was full on daylight already. After a filling breakfast at the hotel we headed out into town to start the whirlwind sight seeing. We walk from the picturesque Nayern area all the way to the Little Mermaid statue. We had hoped that we'd be early enough to avoid most of the crowd but there were already 3 tourist busses there at 8:30 when we got there. The Little Mermaid statue is indeed little. A couple snap shots and we were on our way.
Trying to get the most out of our Copenhagen card we headed off to the Calsberg brewery. After a confusing 15 minute walk through various construction projects we arrived at the brewery really in need of a beer. Luckily admission included coupons for 2 free ones. The tour didn't cover any actual brewing just pictures and a story of what once was. The tour did include 3 separate bars.
Being museum and toured out we had a few hours left for the day so we decided to go to Sweden....as you do.
---
5/23/15 - We arrived at the Copenhagen airport at 7pm, checked in to the hotel and headed into town with the aim of getting some night shots of the city. We headed into town and found that Tivoli was still open so we headed inside. Wow, it's like Disney but Danish. They had rides, themed areas and stages with plays. All very impression, and like Disney, a whee bit expensive. You paid a reasonable fair to get into th park and pay to go on individual rides. There were plenty of restaurants and concessions in the park all with higher than normal pricing. The entrance was covered with the Copenhagen card which we bought for the trip.
So it turns out that it doesn't get dark here until well after 10pm. After 13 hours of flying and very little sleep we were draggin butt by 10pm and decided to head back to hotel to get a fresh start on tomorrow.
---
5/22/15 - Off to Copenhagen! Jean luc and I had been looking to go to Helsinki, Warsaw or Tokyo but then Copenhagen went on sale. Apparently not enough people were visiting so they drastically dropped the airfares. How could we resist?
---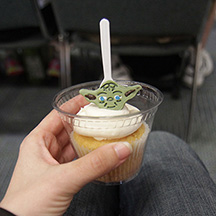 4/19/15 - Star Wars Celebration Day 4
I'm not really sure what sleep or real food is at this point. I had tried to find something to eat at a food stand yesterday but there was not one to be found with a line under 40 minutes. I could however get beers from multiple stands with no wait what so ever. I believe there was 3 beer stands per floor and only one pretzel and hotdog stand.
I had 1 hour before my first panel so after building my Lego mini Millennium Falcon I wandered the exhibition hall so see if there were any last day deals. I bought a couple little Star Wars lego figures and a custom Aliens figure. Then since it was the last day I gave into insanity and bought one of the $8 cupcakes with Yoda's head on it.
I took my Yoda cupcake and headed up to the collectors panel room once again. At the end of the day I had amassed 15 of the 20 Star Tots including the Yoda one that I most wanted.
Throughout the 4 days I meet a ton of great people and had wonderful time. If Star Wars Celebration comes back to the Los Angeles area in the future I will go once again.
---
4/18/15 - Star Wars Celebration Day 3
So getting up at 5am and getting home at midnight is starting to take it's toll. Never-the-less I was in line early once again as I knew this was going to be the busiest day and my first panel of the day started only 30 minutes after opening. At the opening bell I once again made my way to the Lego booth builder area to build the ship of the day, a tiny tie fighter - pew, pew! Then rushed to the first collectors panel.
After the toy innovations and great stories of Star Wars collecting I needed to get up and more around a bit to keep from falling asleep in the panel room. So I wandered down to the exhibition floor once again. I'm not quite sure how it happened but in a daze of sleep deprivation and lack of energy due to subsisting on a diet of beef jerky and Fritos for 3 days I found myself in the Hallmark booth purchasing the exclusive itty bittys figures. Friendly little bounty hunters staring up at me from the counter. They were so cute and soft like little pillows that I coud fall asleep on....zzzzz. There was no line to get them which was very odd. I would have thought I dreamed the experience if they weren't sitting in front of the computer right now staring at me.
Back up to the collectors panel room for 2 more panels then it was out to my car to pick up the toys I had brought to trade at the evenings collectors swap meet and social. I lugged my 3 boxes back to the convention center and headed to the trading room. Now in my head I envisioned that maybe there would be 50 collectors all wandering around the room with boxes like mine looking to trade toys. I was hoping to trade for a Yakface or a Land of the Jawas. The reality was there were maybe 25 of us that had brought toys. They let us into the room to set out our toys and then they let in about 250 people who all were just looking to buy stuff. There was so many people that they extended the event to 9:30pm. It was a bit insane and not something I was prepared for. Sure I sold a fair bit and managed well even though I didn't bring any change with me as I didn't expect to sell much but I was kinda bummed I didn't get to trade for much. I did trade a few weapons and a figure with the guy who was selling next to me.
---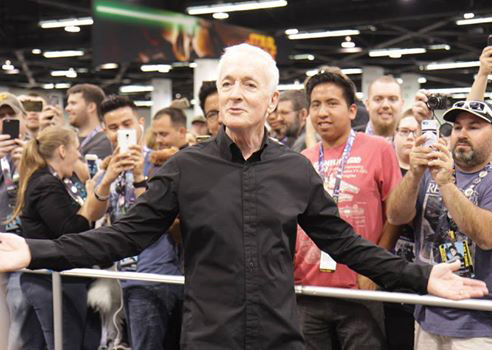 4/17/15 - Star Wars Celebration Day 2
Still feeling tired from yesterday I got up early again for the drive to Anaheim so I could get in line for day 2 of my Star Wars adventure. The line was much longer to get into the exhibition hall this morning even though I got here at the same time. So glad I picked up my exclusive yesterday...
It seems that the organization, in their infinite wisdom, decided to create only one line to get into the convention center so you still had to get in line super early to be able to get in and attend one of the first panels of the day. The line was so massive already that it took people at the end of it 40 minutes just to get inside. They really should have had people line up separately for the different panel rooms and the exhibition hall.
The wonderfully awesome thing that happened this morning is I met Anthony Daniels! He cam by the aisle I was waiting in and shook my hand then chided me for not being in costume. I think this is about the perfect meeting with C-3PO I could have wished for. If I didn't get to do anything else I wanted to today this experience alone would make my day. Apparently Anthony goes and says hello to the people waiting in line every morning and has done this at every Star Wars Celebration. Super nice of him.
Still beaming I made it inside with 10-15 minutes of the opening time - that's what getting there 2.5 hours early got me. I rushed over to the Lego booth builder area once again to build my mini ship, today was an X-Wing Fighter. I had a little time to spare as my first panel didn't start until noon so I got a good chance to take photos of all the awesome sets that the Belgium Builders Club created for the show. There was a recreation of the Cantina, a big area with Jawas, droids and a Sandcrawler, a medical bay complet with bacta tank incase you get attacked by a Wampa and need some healing. An interior hall way of the Millennium Falcon, The Rancor Monster and lastly the new speeder bike type vehicle from the new movie. Wow, they were all incredible.
I knew today was going to be a full day of panels with not much time between them. First off my Star Wars action figure customization panel - pretty cool but I was hoping for a bit more of the how to and less of the display of finished products. From there is was a mad rush over to the stage area to try to get into to see Carrie Fisher. Still not sure how I managed it but I was able to get in line just before it was capped. I didn't think I had a chance at getting in with only 30 minutes between the last panel and the start of this one.
How shall I put this....Carrie Fisher is perhaps a little crazy but also a hoot to see live. I wanted to go to her panel especially as I thought she'd have some of the best stories to tell and I was not disappointed. So glad I got to see this panel.
After Carrie Fisher another made rush back to the main building to see the collectors panel I had been wanting to see most on the Star Wars coins. After the excitement of Carrie Fisher this panel was a bit of a disappointment. The info discussed was just different than I was hoping for. Oh well, back out again to try to make it to the Lego Droids Tales panel. I was in line in a good placement to get into this panel but then it was long delayed due to technical difficulties. I ended up leaving so I could make the final collectors panel for the day about Ewok Collectables.
---
4/16/15 - Star Wars Celebration Day 1
I had a dream, a dream of getting the Star Wars Celebration exclusive Lego Tatooine Mini-build set. Knowing the quantities of these would be very limited I skipped going to the opening ceremony panel and lined up bright and early in the line for the exhibit hall figuring I would be able to see the panel and the new Star Wars movie trailer online later. As it turns out the event was being live streamed and everyone in the line for the exhibition hall were watching the panel on their cell phones and iPads. I'm sure the collective squeals everyone made when we saw BB-8 roll out on stage then watched the trailer could be heard half way around the world. If you didn't hear it you were probably squealing as well.
Just after the panel ended they let us into the exhibit hall and the speed walking (NO RUNNING!) of the masses towards the Lego booth commenced. My years of training from Comic-Con served me well and I was within the first 100 people in line. 400 sets were to be given out today so I was golden! It took about an hour to make it to the front of the line and I was able to buy my Lego set! Flush with victory I looked around at the other lines and seeing that there was nothing else I really wanted it was time to explore the sales floor before heading up to the collectors panel room were I would be spending most of the day waiting for Star Tots learning new and fun things about Star Wars collecting. Okay, maybe I was there to learn and collect Star Tots.
After the collectors panel on Star Wars Lego I learned that the Lego booth down in the exhibit hall was letting people build a different mini Star Wars ship each day to take home with them. Naturally I rushed back down and built myself a tiny Star Destroyer to accompany my tiny Tatooine.
---
3/20/15 - I bought the Hulk Buster Ironman lego set and put it together tonight. Putting together lego set are so much easier on the fingers than assembling the Walking Dead play sets. So odd to still have feeling left in my fingers.
Now I have Hulk Buster guarding my Black Series Darth Vader. Darth's head tends to fall off at the slightest tough so, like Princess Peach, I've stuck him a top the rainbow Pin Block tower I made with my free samples from Toy Fair. It's my toy land version of protective custody.
---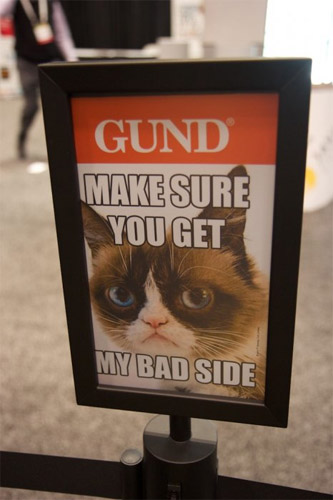 2/15/15 - OMG, OMG, OMG it's cold! I had planned to spend the first part of today at the convention center and then wander about the city a bit before heading back to the airport for my flight back to LA. Well that didn't happen. It turned out to be -10 outside with the wind chill. To put it mildly it was unpleasant outside. I was disinclined to walk further than the 4 blocks to the convention center.
Get ready to be envious...today I met Grumpy Cat, got a picture with it and a plush grumpy cat figure to forever remember the event. Grumpy cat was obviously bored with the picture taking process and he looked asleep in my picture. I did see some other people's pictures when Grumpy cat was awake and it really did look like he was wishing them a painful death so maybe I lucked out with sleepy Grumpy Cat.
The rest of my day was meetings and revisiting booths. I finished the show with 3 bags full of swag that I somehow condensed into 2 so I could carry everything on the airplane.
---
2/14/15 - It's Toy Fair time! I took the red eye flight out of LAX last night and arrived in New York this morning. I short stop off at the hotel to drop of my bag and onto toytopia. So much to see. The McFarlene booth at a huge display of the Walking Dead playsets and mini figures. New prison cell, catwalk, boiler room, RV, Woodbury assault vehichle set. I wanted them all!
Next up was Funko. It was like an explosion of pop! vinyl figures. I do believe there is a pop! vinyl figure for everything now and honestly a lot of them look pretty generic. I will however be getting the adipose figure from the upcoming line from Doctor Who. How can I not. Along with the legion of pop! vinyl are a slew of new mystery mini boxes, ReAction Figures (which I still don't like) and a 6" line up of Firefly figures that look pretty damn good.
The last highlight of the day for me was the Firefly statues from Qmx. The sculpture really did an excellant job on all of them.
After a long first day at the show now it's time to go off and see a play and prepare for tomorrow.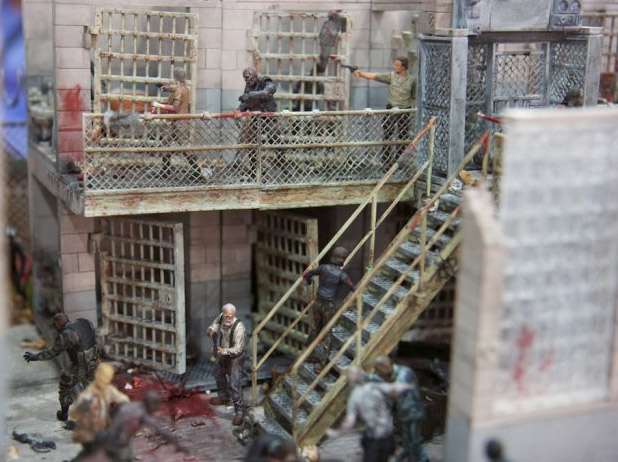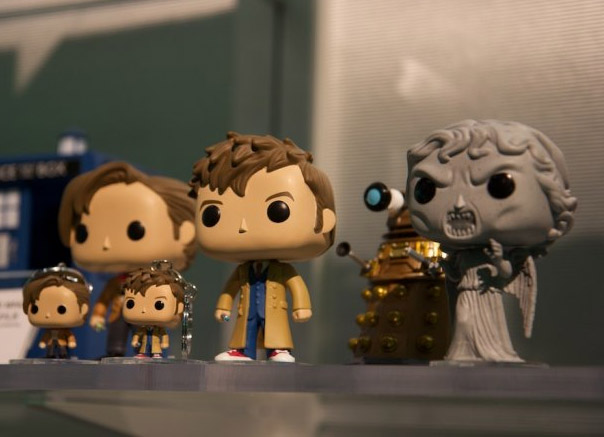 ---
1/15/15 - Behold the awesomeness of The Walking Dead Prison and Tower Gate play set. Over 600 pieces - took several hours to put together. I am hopeful that one day feeling will return to my thumb and forefinger tips.
The Daryl and motorcycle play set is in there as well. Putting in all those little clumps of grass is a major pain in the butt. Every time you put one in one falls out. It's an odd game of Jango.
I have limited shelf space and this play set is pretty big. Right now the Disneyland droids along with Stitch have been incarcerated as a result. Most of the Walking Dead mini figures are from the blind buy bags. I managed to get one of all the human figures I wanted. Took quite a bit of "feeling up" the packaging and some suspicious looks from the Toys R Us employees but the end result was worth it. No duplicates!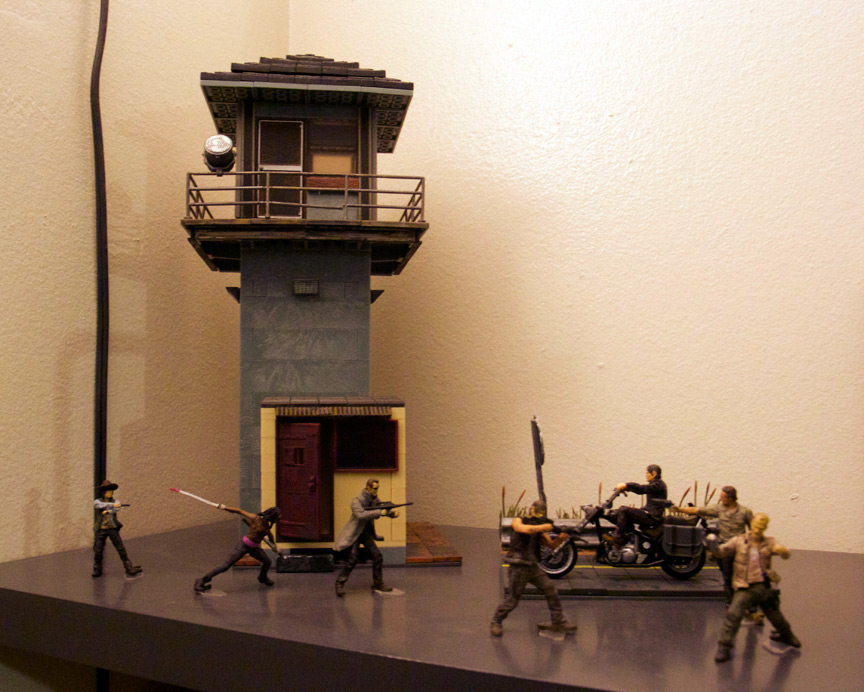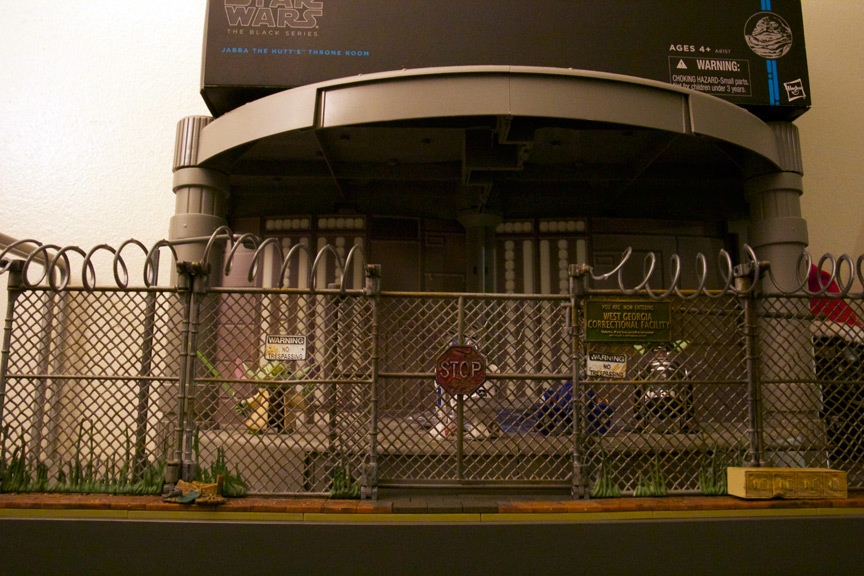 ---
read more ramblings...