These are the thoughts that go through my head...
11/29/14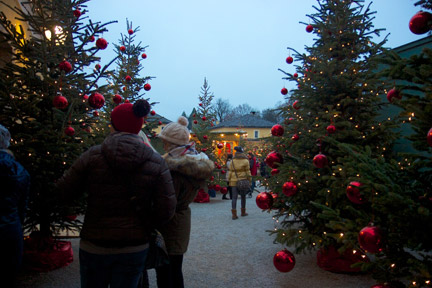 - I did a lot of research before going on this trip, okay really I just watched Amadeus and Immortal Beloved. Despite being warned to watch out for some of Mozart's music - I hear there are occasionally too many notes, I decided to head to Salzburg and see the Christmas Markets and buy some Mozart Kugeln.
Seems like a lot of people had the same idea I had. The sights and markets were bustling with visitors. I made my way through the 5 different Christmas markets in the city. My favorite one by far was at Schloss Hellbrunn. The castle as the back drop with giant red bulbs hung in mass from every tree looked magical.
---
11/27/14 - Other people may enjoy eating turkey today but my bird of choice cruises at an altitude of 30,000 feet. Today my Thanksgiving bird is taking me away to Vienna!
---
10/31/14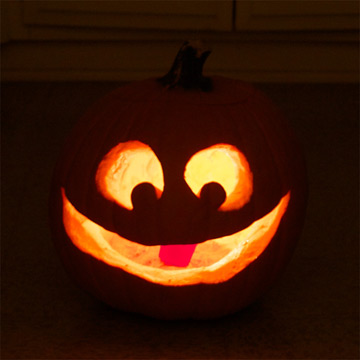 - Happy Halloween!
---
10/18/14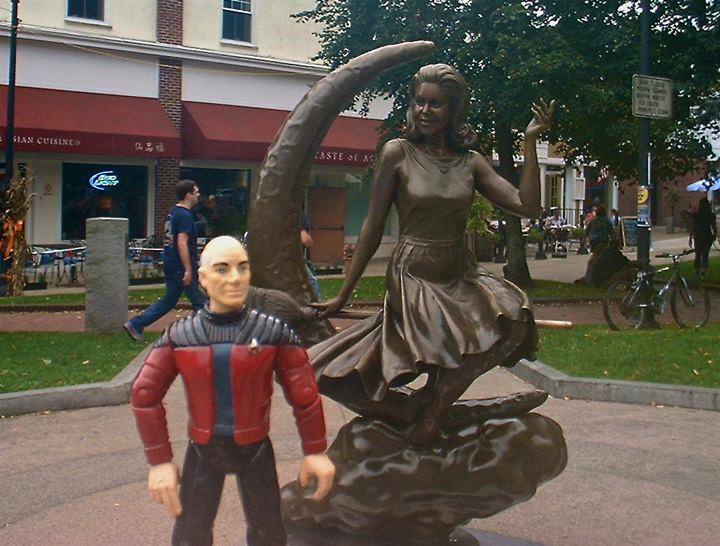 - It's Halloween time and what better place to visit than Salem. So Jean Luc and I did what we do. Booked an overnight flight to Salem for a spooky day trip and a perusal of the Haunted Happenings festivities.
Salem, as it turns out, is rather small and not the place where any actual witchy stuff took place. The place with the witch trails was Salem Village which is about 40 minutes away from Salem. Salem did have a memorial to the witches and a house that one of the judges in the witch trials lived in. Also there is the Nathaniel Hawthorne house and the House of the Seven Gables. The house of Seven Gables was my favorite place I visited. It was such a oddly put together house. The oldest rooms had extremely low ceilings. All the rooms had slanty walls and the door tops were cut at angles due to the slopping ceilings. Then there is a hidden staircase that a later owned added after the book came out. Sadly no photos allowed inside.
The Haunted Happenings festivities were fun. People dressed in costume and lots of food booths, several haunted houses and lots of odds and ends for sale.
---
9/28/14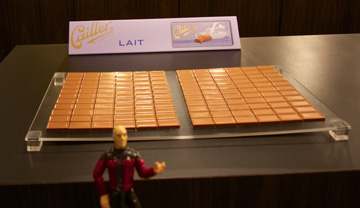 - The day started off early as we boarded the train before sunrise. The first stop on the agenda - the promised land. A visit to the Cailler chocolate factory in the town of Broc. We arrived about 20 minutes before the tours started so we were in the first tour of the day. The factory tour was very much like a ride at Disneyland. They ushered our small group into a small room with no windows and no doors! The room descended a little bit and a door magically appeared at we went into the enchanted Tiki room where we learned about the chocolate gods and origins of the cocoa bean. We progressed room by room to hear the story of chocolate being brought to Europe by the spanish and then to it's eventual home in Switzerland where there were happy cows with too much milk so they added it to the chocolate and voila milk chocolate was created! The final door opened up and let us into a big room filled with bags of cocoa beans from all over the world. There was also a machine that was creating chocolate treats and wrapping them up for us to taste. Most of the group stopped here and didn't seem to realize the promised chocolate tasting room was just on the other side of the next door.
Jean Luc and I entered the tasting room where all the newly laid and untouched chocolates were waiting for us. Upon entering there was a sign with detailed instructions on how to best taste chocolate. First you were to break the piece in half and smell the chocolate aroma. Then you put one half in your mouth and let it slowly melt to detect all the notes of the chocolate. The other half was to be eaten to access the hardness of the chocolate and the graininess. Yeah....we did not do any of this. Each piece went whole into our mouth and got gobbled up. We did however discover that 15 pieces of chocolate is about all you can eat before becoming so incredibly thirsty you start see mirages of diet coke fountains. Of course there were no beverages in the tasting room so we grudgingly headed out to the chocolate shop to get a drink and buy some chocolate for the road.
From Broc we jumped back on the train and headed to the town of Gruyeres, home of the Gruyeres cheese factory. With our paid admittance to the cheese factory we got 3 sample of cheese all aged differently to enjoy as we listened to Cherry the cow tell us all about her time grazing in the hills. I'm sure she had lots of interesting facts but we fast forwarded through most of them and went in to see the cheese making. Turns out watching cheese making is not all that exciting so we left the factory now way too full of chocolate and cheese and headed to the old town.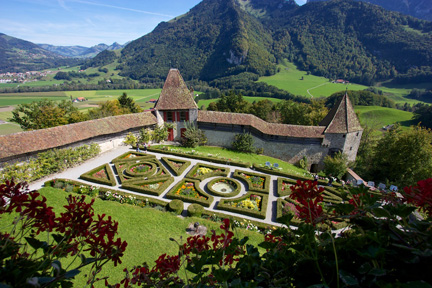 Old town Gruyeres turned out to be awesome. We had to hike up a big hill to get there but the walked helped get rid of the slightly sick feeling of a stomach full of chocolate and cheese. Once at the top of the hill we went to the Castle of Gruyeres and were treated to breathtaking views of the countryside and an interesting tour of the castle. Next we peaked inside the HR Giger cafe but choose not to visit the museum. We spent the rest of the time walking around the town until we could no longer stomach the smell of fondue
Back at the train station we had a little time to kill before the train arrived so we purchased a ham sandwich and a local beer at the restaurant by the station. Soon enough the train arrived to take us to the final destination for the day - Montreux.
Montreux was very different from the other towns we visited today. It is a lake side town with a very French Rivera type look and feel. Our main goal for the town was a walk along the lakeshore in route to visit Chillon Castle. Chillon Castle was very different than the elegant castle at Gruyeres, it was a fortess of hard stone and felt very raw. The castle was used as a prison at several points in its history and was immortalized by Lord Bryon in his poem The Prisoner of Chillon.
After the visit to Chillon the day was coming to a close. We stopped to visit the statue of Freddie Mercury before heading back to Geneva for our flight back home in the morning.
It was a short trip made even shorter by the domino effect of missed and late flights the day before but we would do it again in a heartbeat.
---
9/27/14 -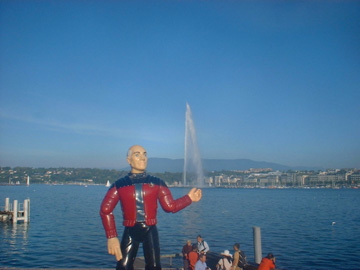 Well so far the day and a half adventure to Geneva and the start of my new career as a chocolate mule has hit a snag. The plane was very late out of LAX so we missed the next two flights. We are now rescheduled to land in Geneva at 5pm which is the exact time all the streets roll up and shops and attractions close for the night. There goes the half day of chocolate and sightseeing.
Now we are in hour 2 of our 5 hour layover in London which is not enough time to go out into the city. We tried to get on standby for an earlier flight but we are dealing with British Airways now and that concept seems foreign to them. Jean Luc tried to reason with the gate dragon but it was no good. You are either ticketed or not ticketed for the flight. Doesn't matter if passengers don't show up and the flight goes out with empty seats.
So now we are back in the lounge where Jean Luc is coping with his boredom and dismay by filling his empty bag with free chips and snacks from the lounge.
We have finally arrived in Geneva. 5 hours late and stores closed but we still had 3 hour of light in which to do some quality sightseeing.
---
9/26/14 - It was a month or two ago when I caught Jean Luc sitting in front of the computer mumbling something with a wide eyed look. Upon closer inspection he seems to be muttering "all you can eat, no time limit" over and over. So now we are sitting in the lounge at LAX waiting for our flight to Geneva Switzerland. Foremost on the itinerary is a visit to Callier Chocolate factory in Broc Fabrique where at the end of the tour is indeed a tasting room advertised as all you can eat with no time limit.
Jean Luc brought along an extra bag. I think he's trying to turn me into a chocolate mule. We will be hitting up some other places on our day and a half trip.
---
9/6/14 - Having seen pretty much everything we had wanted to yesterday the goal for today was to see if we could eat nothing but donuts and pastries for the entire day. We were off to a good start, glazed donuts in hand from Reading Market we headed to the only destination left on our list - The Mutter Museum.
For those of you that have never heard of the Mutter Museum, well let's just say it may not be for the squeamish. The museum is home to thousands of medical oddities. There are some preserved body parts floating in jars, the death cast of Chang and Eng, the original "Siamese Twins," whose autopsy was performed in the museum and a wall of skulls. They have skeletons of conjoined fetuses, a 7' 6" man, a midget and displays of how wearing a corset actually deformed women's bones.
At the end of the displays there was of course a gift shop. Jean Luc still regrets not buying a conjoined twin cookie cutter.
After the Mutter museum we were basically wondering aimlessly. He strolled through many a park looking at fountains and statues. We meandered by City Hall and Logan Circle. The heat of the day pressing on we decided to head back to Reading Market for some lunch.
We failed our goal and ended up getting some Jambalaya for lunch but did follow it up with some Apple Cinnamon Butter Cake. We purchased a sticky bun, some fudge and chocolate covered cherries before heading off to the train station and back to the airport.
---
9/5/14 -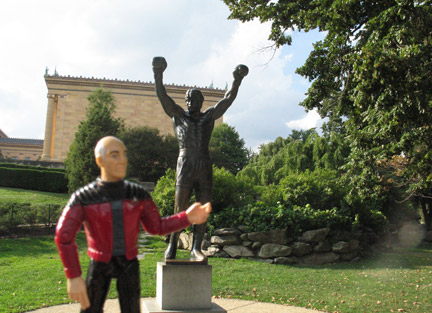 Jean Luc was in the mood for some history and some cheesesteak so I hoped on the computer and booked a flight to Philadelphia. Originally I had booked a flight that had us arriving late Friday night and departing Saturday evening but the travel gods must of thought we needed more time. Our outgoing flight got rescheduled so we were now on a redeye flight leaving Thursday night and getting in Friday morning getting us in 11 hours earlier than originally booked.
After a short flight we arrived at the PHL and boarded the train into town. The train was fast and painless but it would have been really great if someone would have told us the name of Market East Station (our stop) had been recently changed to Jefferson Station. After some backtracking we got off at the right stop and headed straight to the historic part of town.
First stop was the Liberty Bell. Jean Luc tried to talk a guy in a wheelchair into distracting the guards so he could get a picture on the bell but the guy didn't go for it. From there we went to do a tour of Independence Hall, Congress Hall and walk around the grounds. All chalked full of fascinating history. We continued walking following a trail on our pocket map and saw a plethora of old building with informative signs about the histories of the different locations.
Just after visiting Christ Church we decided it was time to stop and have some much needed food and drink. We passed by an Irish looking pub and decided it would be a fine place to try a Philly Cheesesteak. We ordered the cheesesteak and a pint of hard cider to quench our thirsts. Being an Irish pub and not a tourist spot our Philly cheesesteak was probably not real typical but hey - who cares it was delicious. It was overflowing with meat but what was on it was good quality and moist. The mushrooms had a wonderful earthy flavor and mixed with the melted cheese the sandwich tasted like beef stroganoff on a bun.
By the time we were down eating the day was nearing the end of opening hours for all the attractions. We decided to head to Eastern State Penitentiary and try to get in before it closed. We made it in time and headed into the prison to check things out with the aid of the audio tour. Eastern State is the world's first penitentiary and was built on the idea that prisoners needed solitude to become penitent. Willie Sutton and Al Capone were both once housed in the prison. After seeing all of the Penitentiary we noticed we were not too far from the Philadelphia Museum of Art which to Jean Luc meant only one thing - the Rocky stairs!
We made it to the museum and posed with the Rocky statue but opted not to run up the stairs. It was hot, we were tired and it looked like a lot of stairs.
---
7/27/14 -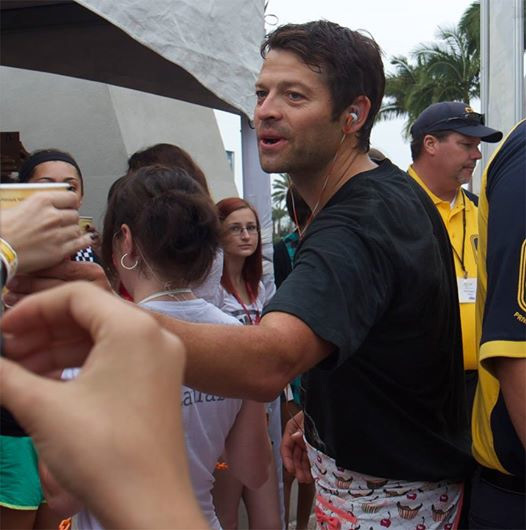 Comic-Con day 3!
Today is Sunday and the last day of Comic-Con which means only 1 thing - time to line up before the crack of dawn with the other fans to try to get into the Supernatural panel in Hall H. Last year I got in line at 6am and didn't get into the panel so this year I was in line by 5am. They did a great thing and handed out wristbands to the everyone in line for the first panel of the day in Hall H. What this did is to eliminate people coming later in the morning and joining friends that had been in line much earlier. It also gave people a good idea if they were going to be able to get into the first panel because let me tell you it is extremely disappointing to spend 4 hours in line to not get in for the panel you wanted.
When I arrived at 5am they had just started giving out the group B wristbands. From what they said that means that enough people were already in line to fill a quarter of Hall H. So I knew I would definitely be in and be able to get a pretty good seat - awesome!
Around 7:30 they started condensing the line and I found myself in the 4th chute that enters into the hall. At about 8am Misha Collins who plays Castiel on the show came jogging by to say hi to all the fans that had been there from the wee hours. He seems to do this every year which is way cool but this year he did some amazing. he cam back and started handing out coffee to the fans in line. In all Misha spent an hour handing out coffee and saying hi and taking pictures with people. Incredibly cool of him.
A little after 9am they started letting us into the Hall for the 10am panel. I snagged a single seat in the first row of the first seating section so I had a pretty good view. At 10am the panel started! The panel was great, funny and worth lining up at 5am.For a show going on season 10 there are a lot of enthusiastic fans that make for a great atmosphere.
I decided not to stay for The Following panel. It would be cool to see Kevin Bacon but I don't really like the show. Instead I headed back to the exhibit hall to try to get some shots of some of the toys on display at the varying booths. I could not get anywhere near the Marvel display for the new Avengers movie so I moved on and got some good pics of the new Hot Toys, Sideshow and Hasbro figures. If you haven't seen any of the Hot Toys figures you should because they look incredible.
After getting all my pictures I headed to the Gentle Giant booth for a book signing from Angeline Lilly. She autographed her Squickerwonkers book, posed for a picture with me and then shook my hand and thanked me for buying the book - awesome! To finish up my day I did a promo shot over at The Falling Skies booth.
Another great Comic-Con!
---
7/26/14 -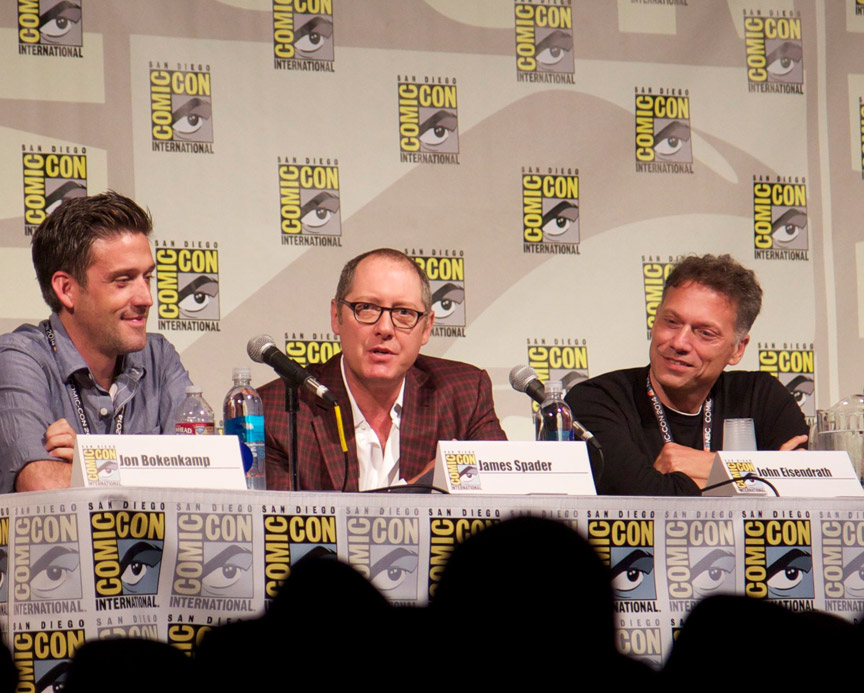 Comic-Con Day 2!
After a day to recoup from day 1 it's time to head back to San Diego for more Comic-Con fun. My plan for the day was to get into room 6A so I could get in for the Marvel video game and Blacklist panels. After scooping out the line before the convention opening time I decided to camp out in the room and see the preceding 2 panels so I'd be sure to get a place in the room for the panels I wanted. And that ladies and gentlemen is how Comic-Con works unfortunately. Decisions need to be made because lines are everywhere and you can only do so much. I had naively thought about trying my luck in the Lego line again before heading for the Room 6A line but wanted to see the panels more
Before the panels I wanted were Phineos and Ferb and Teenage Mutant Ninja Turtles Cartoon panels. Both turned out to be very interesting and entertaining. The Marvel video game panel turned out to be a bit of a let down for me. Most of the games they introduced were mobile which I don't find very interesting. I did get a free poster from the panel so that was nice. The final panel was the highly anticipated panel for The Blacklist. Before the panel they gave us all black hats just like the Reddington character wears on the show. James Spader and the 2 Johns (the producers) were there to talk about the show. It was an awesome panel, I was pleased with my decision to spend my morning in all the panels.
Time to wander back into the exhibit hall, meet up with some friends and pick up a copy of the advanced Read version of Star Wars a New Dawn signed by the author. We snagged a couple other freebies along the way then headed outside to see some of the exhibits that are outside the convention center. I was bummed to miss out on getting into the Hunger Games Mocking jay exhibit. Seems it closed at 4pm Saturday and was not going to be open on Sunday. My mood brightened soon afterward when I saw the entire cast of The Vampire Diaries walk by me on one of the side streets as we were looking for a place to eat. I could have reached out and poked any of them. No wall of security or anything.
---
7/24/14 - Comic-Con! Woohoo, it's that time of the year again. Time to get together with 100,000 other fans of comic's. Okay most of those people are there to stand in line for Hall and see the movie and TV panels but still. Comic-Con!
I arrived at the convention centre early to pick up my badge and position myself to get inside as early as possible to get my coveted exclusives. The plan sort of worked, I got into the Lego line very early to try to get a ticket to buy the exclusive sets on offer. I was in good position to get a ticket until the Legos employees started randomly handing them out to people who weren't in line then capped the line about 10 in front of me. Grrrrr.....
A quick peek at Hasbro told me there was no way I was getting anything there so off to Cinequest to get the exclusive Supernatural car. Mission accomplished! I got one before they had sold their allotment for the day. From there I headed to Diamond to grab the free TMNT minimate figure and then to Diamond for a couple Hellboy items. A rocky start but a good finish. The rest of the day was free to make my way through the exhibitor hall, which did indeed take all day.
---
6/26/14 -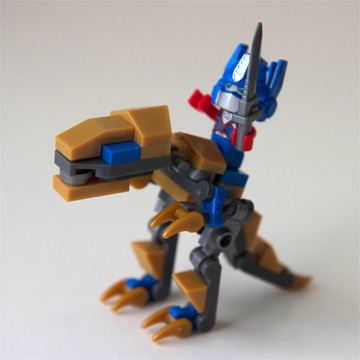 I rescued this poor tiny Grimlock and Optimus from the evil clutches of children today. I went to Toys R Us on yet another fruitless search for new Star Wars figures and saw a cluster of small children and frustrated adults surrounding a couple tables in front of the Transformers display.
It was a Hasbro/Kreo promotion for the opening of the movie. Children got a free 46 piece Kreo set, parents got the frustration of trying to put the tiny Optimus Prime and Grimlock figures together for the small children. After seeing a dozen parents and small children give up and walk out with half put together sets I inquired politely about the figures. I'm not generally a buyer of transformers but look at the little figure! I had to have a tiny Grimlock for my very own. The Toys R Us employee that seemed to be getting much amusement out of the parents not being able to assemble the tiny figures gave me a set.
It was a slight challenge putting the figure together and they seem quite fragile. Not sure how much play a 6-12 year old can get out of the set. Every time I try to pose mini Grimlock to attack my squishy headed Captain America his torso starts coming apart. Tiny Grimlock's mouth doesn't open either so I had to settle for Optimus riding a top Grimlock and poking squishy headed Captain America with his tiny sword.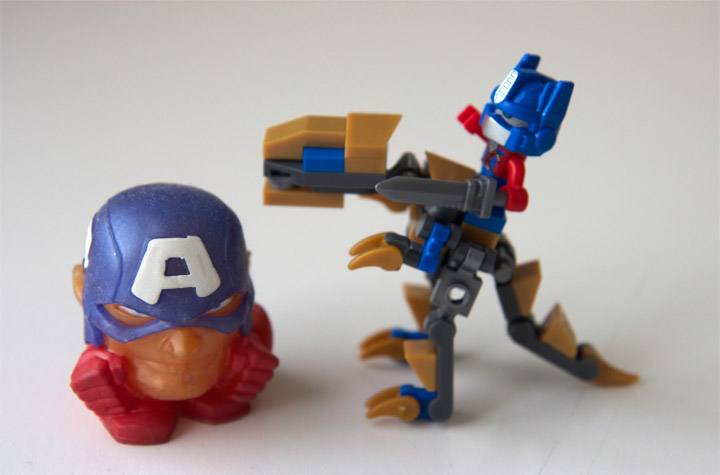 ---
6/12/14 -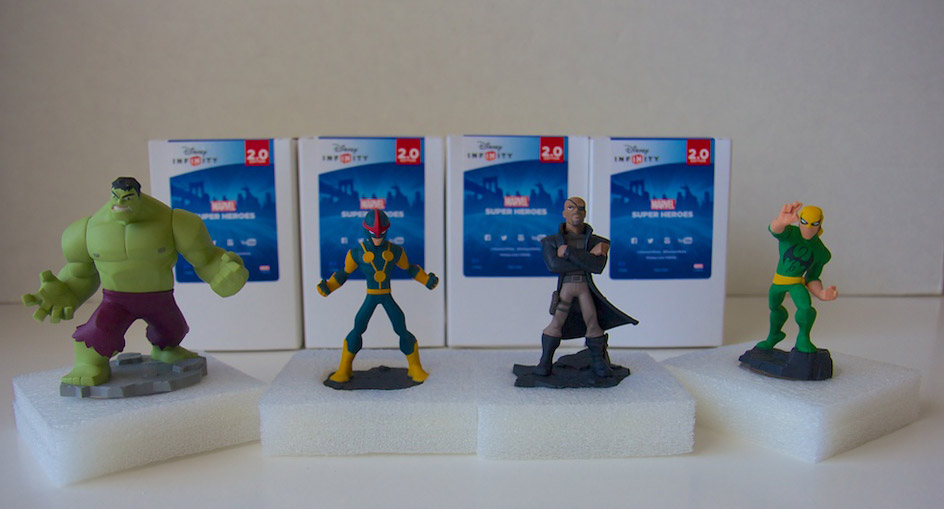 Seeing as I spent most of the first day at E3 in various lines I decided to go back for a second day to play some more games....and get a few more Marvel Infinity Figures.
I saw demos for Destiny, The Evil Within, Batman and had time to play some older games. I also gave another stab at another MMO and quickly lost interest when all I could do was cut down trees to build something. I'm not sure what I could build or how my petite character was going to carry all that wood to build something
After playing all I wanted I decided to spend the rest of the day just waiting in the Marvel line to get more actin figures. I ended up with a Nova, Nick Fury and a Hulk. The figures do look really cool which is good because I can't do anything but stare at them unti the game comes out in the fall.
---
6/10/14 - Spend the day playing video games - check!
Went to the opening day of E3 to check out all the newest games and gear. Spent the day mainly waiting in lines for game demos and freebies. I just couldn't turn down the opportunity to get a Disney Marvel Infinity 2 figure and a Skylander Trap Team Crystal. I ended up getting Iron Fist for the Marvel Figure so I'm not entirely sure that was a good use of my time. I was hoping for a hero and not a sidekick.
As far as games go I got to demo the above mentioned Infinity 2 and Skylanders games. Both were fun but the Marvel Infinity didn't' seem to have the length of game play as compared to Skylanders. I also played Alien Isolation which is more an evade and live game rather than a massacre aliens game. Sadly during my 30 minutes of play I died probably 10 times. They said they ha the difficulty cracked up for the demo. Why exactly, I'm unsure. Perhaps they wanted everyone to see themselves impaled by an alien tail. As a big alien fan I will still get the game when it comes out and put it on the easy level. It did seems enjoyable for the brief periods when my character was alive.
I tried a few MMO's but I am clearly more interested in destroying things when I play video games instead of building things. I just don't care about the people in the village I just built they are so needy...
---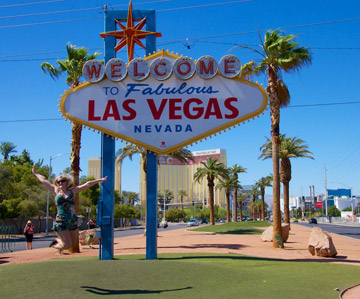 5/31/14 - Viva Las Vegas....
I arose early and headed off to Las Vegas to partake of the usual Vegas activities..visit to Hoover Dam, pinball and a walk around the strip.
The visit to the Dam was interesting and informative. I went on the power station tour and then had a nice walk across the dam over to Arizona. After a few minutes I decided that was enough of Arizona and the dam for now and I headed into town.
Amazingly I was able to check into my hotel at very early at 11:30am. I dumped off my stuff and went to the strip. I had read really good reviews about the Wicked Spoon at the Cosmopolitan hotel so I decided to give the brunch buffet a try. I glurped at the $35 price tag but remembering the good reviews and being in Vegas I decided to take a gamble...
Determined to get my $35 worth I headed to the bars with my first plate. I started off with an eggs benedict type dish, yakitore, beef broccoli, angry mac n cheese, bacon and mint gelato. Whew...plate number two consisted of two of my favorite items - watermelon lime sirache pieces and duck wings. This plate also contained the oddest item on the buffet - bone marrow. To finish off the plate some shrimp cocktail and mussels. Yeah I didin't really have a theme going other than eat $35 worth.
By my third plate I was starting to feel uncomfortably full. A little more yakatori, another piece of bacon, a slice of beef and some apple cobbler. My forth and last place proved there's always room for dessert so I had another piece of watermelon lime sirache and a scoop of chocolate gelato. Even though all of the food items were small portions I was just shy of feeling so full I wanted to throw up so I threw in the towel. What can I say....people are stupid. The buffet was okay but there were no big wow dishes and it was not worth $35. Lesson learned, I waddled out to explore the strip.
I made a brief stop in the M&M store but could not stay long. The fake chocolate smell they pump into the air is way to much for me. I have to image it is a scent they add to the air because as far as I can tell they don't sell enough actual chocolate to produce that smell naturally. From there I headed towards the biggest bottle of Coke I have ever seen.
What I found was a whole store filled with Coke stuff! I had a good time looking around the 3 floors. I discovered they had a coke tasting menu! Sadly I was still way to full to be able to drink or eat anything - curse you buffet! I continued my walking with the goal of digesting enough so I could come back and do the testing.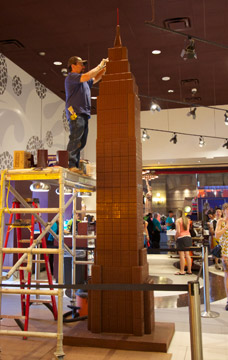 Next on my walk was New York, New York where I discovered the Hershey store. The store was blissfully void of fake chocolate smell and I was able to walk around looking at stuff to my heart's content. The had a big chocolate Statue of Liberty and a man was putting the finishing touches on a big chocolate Empire State Building. There were people handing out free samples and the store was filled with neat souvenirs and tons of chocolate for sale. I went to the lower level of the store and found the bakery. Cookies the size of my head!!! CURSE YOU BUFFET! Still too full to eat anything. I would have gotten one to go but I was sure the chips would melt outside and the cookies was almost too big to fit in my backpack.
Back outside to walk some more... Finally I had just enough enough room opened in my stomach to go back and do the Coke tasting. 14 samples of Coke products from around the world! Most of the samples were decent to tasty. My favorite was the Pineapple Fanta. My least favorite was Beverly from Italy. Apparently this is not sold anymore except to unsuspecting people doing Coke tastings. In a word, this was awful and quite possible the worst thing I have ever drank. I won't try to describe it - just stay far away from it.
Tiring of the strip and seeing all the yummy desserts I was still too full to eat I headed to the Pinball Hall of Fame to do some game playing. Im my opinion this is the best way to spend your quarters in Las Vegas. Fun House, The Addams Family and an X-men game took my $10 of quarters and provided hours of gaming fun.
---
5/20/14 - Today I am one step closer to being a super hero. I stopped a speeding utility truck from running over 6 duckling while I was wearing spandex. Now I'm just waiting for that radioactive spider bite...
---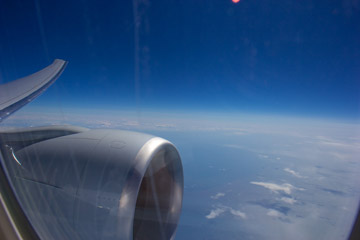 5/12/14 - Sadly it is time to head back home. Happily we have a non stop flight from Heathrow to LAX. 11 hours of movie watching and non stop eating and drinking.
---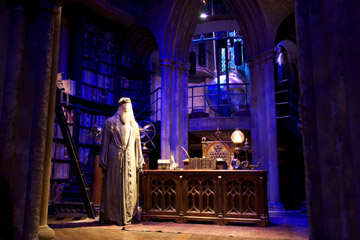 5/11/14 - Today we are off to see the Harry Potter Warner Bros studio tour in Leaverton. After a quick train ride we hopped on the double decker Harry Potter bus and winded our way to the studios. The studio tours are timed so we waited and looked around the gift shop until our tour time came. You can buy pretty much anything Potter related you ever wanted in the gift shop. Robes, wands, Honey Dukes sweets, pygmy puffs and some seriously disturbing Hedwig mugs were all available for a price. We left empty handed as all the prices were just a bit to much for us.
We headed in for the tour and after a short film we entered the great hall of Hogwarts. The hall was indeed great and filled with props and costumes from the movies. From there we entered the larger studio warehouse that contained massive amount of set and props. We saw The Gryffindor common room and bedroom, Dumbledore's office, the potions classroom, the Weasley's house and the sets from the ministry of magic.
We then headed towards an open air area where we found the Knight bus, the Potter house, the Dursley's house and a stand selling Butterbeer. Of course we had to try the Butterbeer so we secured a small loan and bought two tiny plastic cup fulls of foamy Butterbeer. It tasted like a cream soda with a hint of root beer and an aftertaste of butterscotch.
After the refreshments we entered the second warehouse that housed the creature props and the massive scale model of the Hogwarts grounds. The tour contained more props and sets then I've ever seen in one place and it was interesting to see.
Once back in London we stopped at a pub for a fish and chips lunch. Bellies full we went in search of Harrods to get some fudge and chocolate. From there we wandered along and passed by Buckingham Palace and the Parliament on our way back to the hotel.
---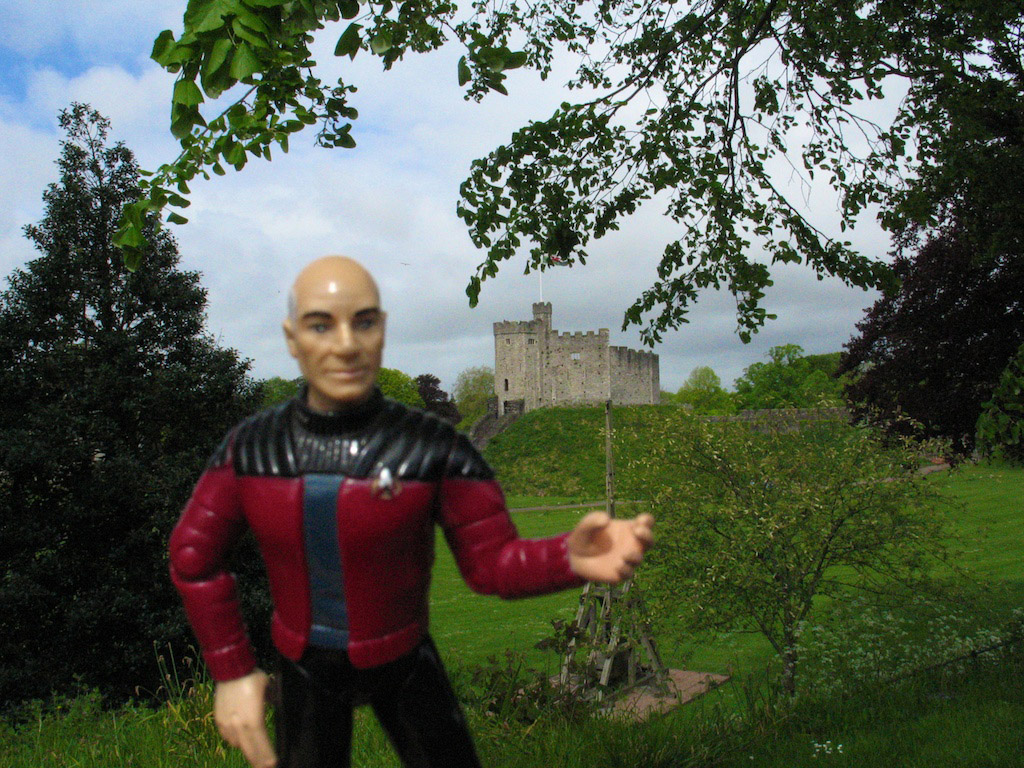 5/10/14 - Bright and early this next morning we headed over to Paddington to hop on the train to Cardiff. The hour ride through the country side was pleasant enough and soon we arrived at Cardiff Central train station. We wandered into town and soon found ourselves at Cardiff Castle. No sight of the Doctor yet but we decided to go take a good look around the Castle grounds and rooms.
Somehow the tour guides always seem to omit that to see everything in the area you will need to climb about 300 stairs, half of which only seem to be about 3 inches wide and a foot high. The other half are spiral and somehow smaller and steeper still. Descending one set of stairs inside the castle while it was pitch black I missed a step on the spiral staircase. Luckily the stairs are so close together as soon as I went down the experience turned into something like sliding down a spiral slide. I slide down until I toppled out of a doorway no worse for the experience.
After the room tour we stopped at the castle cafe for a genuine Welsh lunch of lamb and mint crisps, Welsh cider and a chicken and bacon sandwich. Pretty tasty overall but I can't really say the crisps tasted much like lamb or mint.
From there we decided to look for the Doctor down at Mermaid Quay on Cardiff bay. The bay was windy. How windy? Well, we saw a seagull being blown sideways across the pavement. Small children were holding onto railing for dear life - yeah it was windy.
Just when we were ready to thrown in the towel, that probably would have blown back in our faces anyway, we glimpsed what we had been searching for - the Tardis! We made a beeline for it and found it was sitting outside the Doctor Who Experience. Sadly the Experience was closed but we did make it into the gift shop. We left with a little Doctor and Tardis obtained from a coin op machine and 2 t-shirts.
We headed back to London not having seen the Doctor but feeling better none-the-less.
---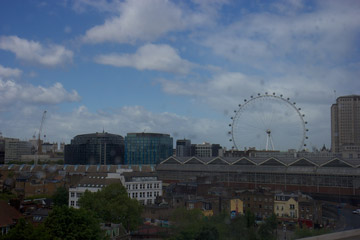 5/9/14 - We landed in London a bit early just before 7am and jumped on the tube into town and see if we can check into the hotel way too early. The day is overcast and windy but we're in London so who cares.
As luck would have it we were able to get checked in at the hotel and were upgraded to a room with a view. The room had huge windows that covered the entire wall and looked out at the London Eye. The very top of the parliament building was also visible. Pretty awesome.
---
5/8/14 - Jean Luc's been filling a bit out of sorts lately so was decided it was time for him to see the Doctor. So we're doing what any normal person without health insurance would do, we're heading off to Cardiff to see if we could find the Doctor.
Out first stop as usual is the lounge at LAX. Some salty nibbles and wine are always a good start to the trip. We're scheduled to make a short pit stop in Chicago and then we'll be landing in London in the morning.
---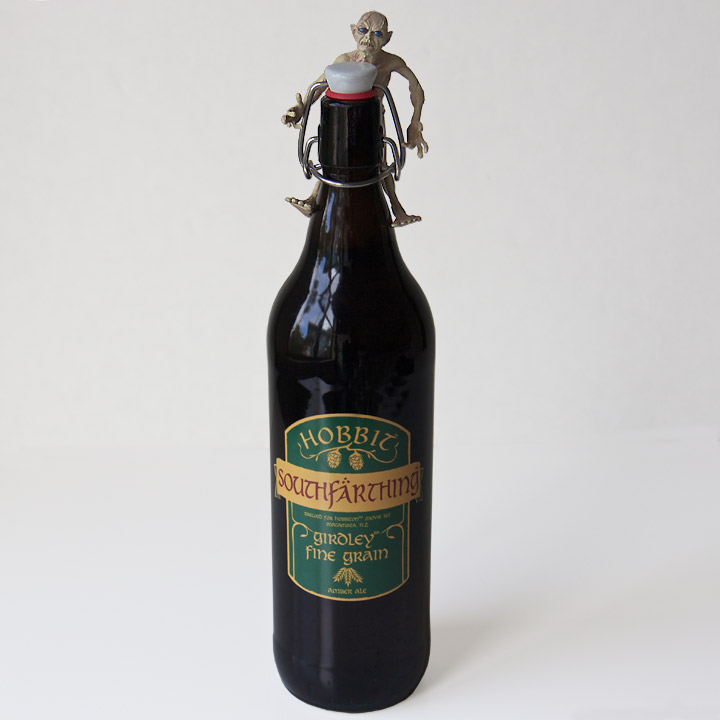 2/9/14 - Hobbit Ale direct from the Shire!
A gift that involves alcohol and hobbits - what could be better? The answer is of course alcohol, hobbits and an action figure. My friend who just got back from visiting the Shire brought me back this lovely gift that would quench a hobbit sized thirst. Not sure how Gollum found out about it but he apparently won the scuffle with Iron Man and has tried to claim the Southfarhing's best ale for his very own.
read more ramblings...